Previous
Manufacturing Profile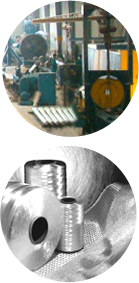 Our Materials
Fiberglass composites consist of glass fiber reinforcements, thermosetting resins and various additives which meet the specific functional performance criteria.
Resins
Polyester, Vinyl ester and Epoxy are the common type of resins used. The selection of material to be employed is dependent on the final product application and the mechanical and chemical resistance properties required.
Fiberglass Reinforcements
The amount, type and orientation of the glass fibers in the pipe produce the required mechanical strength. In addition to the glass fibers, advanced composites uses glass fiber reinforcement materials such as Continuous Glass Roving, Chopped Strand Mat (CSM), and Woven Roving.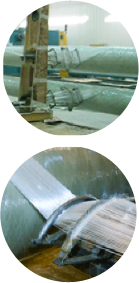 Dual Helical Filament Winding
The most widely used manufacturing method, advanced composites uses this unique state of the art manufacturing process to be able to produce the best piping system solutions. With this manufacturing process the end product will be lighter weight, corrosion and water resistant, and considerably lower maintenance requirements.
This complex process involves impregnating pre-stressed continuous glass fiber material called roving with a matrix resin, the wetted roving is applied onto a steel mandrel or core under controlled tension in predetermined winding angles using dual helical winding pattern. The result is a product that simultaneously achieves optimum mechanical properties and strength. This manufacturing process is used in a wide variety of markets and end product applications. Examples include, storage tanks, pipes, golf shafts and streetlight and utility poles.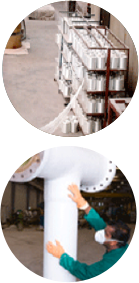 Resin Transfer Molding (RTM)
This is another composite technology used by advanced composites. RTM is a low pressure molding process, where a mixed resin and catalyst are injected into a closed mold containing a fiber pack or preform. When the resin cures the mold can be opened and the finished component removed. Due to its improved tolerance control and high repeatability, this process is used to manufacture near net shape molded parts.
Hand Lamination
advanced composites also uses conventional hand lamination techniques for fabricating spools and mitered fittings. These fittings are fabricated by cutting pipes and mitering them to required lengths and angles then joining them using approved lamination procedures.
Achieving a high quality standard for hand lamination and lay up is dependent on the skill and craftsmanship of our workers. advanced composites continually upgrades the skills of its workers through continuous training and worker certifications.
At advanced composites we pride ourselves in our strong in-house engineering system design and analysis capabilities. Research and development represent the cornerstone of our manufacturing process and methodology. Coupled with our manufacturing technology and the use of the highest quality materials and resins, our process is streamlined to deliver quality and value.
Having assessed your initial needs and design requirements we then convert these into composite designs using computer programs which are especially developed for optimizing reinforcement placement and orientation. These designs are then transformed into commands using yet another computerized system that instructs the machine on the orientation of the fibers. Upon completion of the production process, the product is tested to comply with advanced composites' high quality assurance standards.
Next